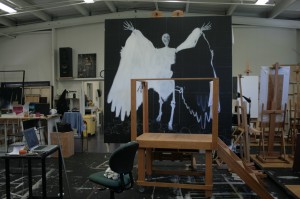 Here's a scary intermediate stage, showing a layer of white going over the first layer of the skeleton. Obviously I'll cover the right side wing as well, then I'll use a clean rag to take this off of the rendering of the skeleton, but letting the edges soften into the white background of the wing feathers. Soon I'll get into the far more detailed and careful fixing stage, when the left hand will get smaller, the right leg will move a touch to the left, and the bones will become far more detailed. I need to paint the first layer of the skulls too, which will doubtless be a lot of work. Â 
It's going to take a day or two for the white to dry, so when I've finished this up I'll move over to the Fortitude piece, which has been patiently waiting for some work on the bear.
Some good news – I'm moving into a house right next to campus, so I have no commute! Fantastic! I'm looking for room-mates. I want the house to be yoga and organic friendly, open minded and light filled.