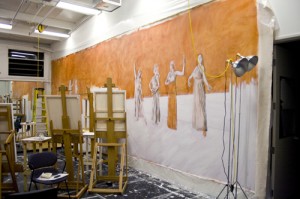 The base white is down on the lower half of the Virtues painting, beginning the work in earnest. The gesture of the brush marks follows the contour of the wall and the slabs of marble that will be on the ground, while some of the warm orange colour of the sealer coat is allowed to peek through the white. My old student and friend Mark Tevis came over and spent a pleasant hour or two working with Joseph and I in the studio helping to get the work moving. We're using a very nice Foundation White made by Michael Harding which is a well ground pigment that I'm pleased with (Steve Aufhauser from Continental turned me onto this paint, because I griped to him about the poor quality of the Flake White I was using before).
It's almost impossible to get a picture of the entire painting because it's so big!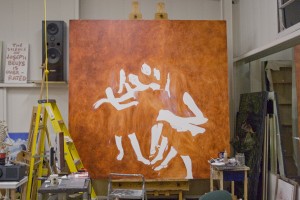 While Mark and Joe based out the Virtues I worked on building the first layer of paint on the Empress, only working in white for now, and staying with the flesh until I can get a bit more time to work on the clothing. I want to stylize the drapery a bit, making it a bit more dramatic. I love the work designer Lily Blue has been doing down in Santa Monica, creating some fabulous clothes with swaths of beautiful fabric, perhaps I'll refer to some of the folds of her work in the dresses the girls are wearing.