It took a while to get warmed up, but once I got moving I managed to cover quite a lot of the canvas,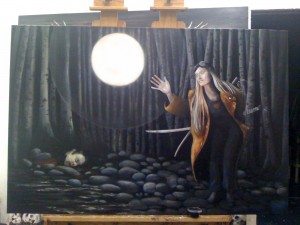 adding a new and more useful layer to the trees which had little substance and needed detail. The patchy grey is broken by black scars in the birch trunks that gives the background a lot more character. Presently the trees are popping a touch more than I would like, but this will change as the next layers gain substance. I've done nothing to the area around the orb, which is still soft and grey.
Doing the water was pretty simple, using black to darken the deep side of the ripples and white for the highlights, then pushing a soft one inch brush backwards against the canvas to create a broken, random surface. I've added light to the stones, which will need detail to make them work – they're a bit flat at present.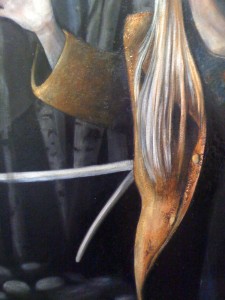 Finally, I glazed the jacket with a layer of Iron Oxide Orange to return it to life after fixing the hair and hand.