Everything's ready for the reception. I hope you can make it.
Here's the release that went out to publicise the show:
Michael Pearce will exhibit his paintings and sculptures from Saturday, Sept. 20, through Friday, Oct. 24, in the Kwan Fong Gallery of Art and Culture.
An opening reception for the free exhibit will be held at 7 p.m.
Saturday, Sept. 20, in the gallery, which is located in Soiland Humanities
Center on Memorial Parkway on the Thousand Oaks campus. The gallery is open
to the public from 8 a.m. to 8 p.m. Monday through Saturday.
"The Principle" features works by Michael Pearce that were inspired by
the natural philosophy of renaissance alchemists, whose explorations into
the phenomena of the universe resulted in some remarkable achievements in
early science and were paralleled by their mystical belief in God. Large oil
paintings created over the course of seven years document Pearce's study of
alchemical philosophy and hermetic imagery.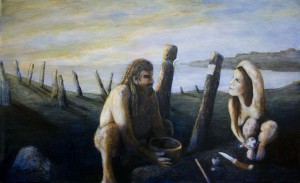 Pearce, of Granada Hills, is an accomplished oil painter, installation
designer and award-winning theatrical scenic designer. His paintings are in
many private collections including those of Andrew Getty, Snoop Dogg and the
Carsey Werner Company. Pearce began teaching at CLU in 2001 and became a
full-time faculty member in 2005. As curator of the Kwan Fong Gallery, he
has organized continuous exhibitions by many well-known outside artists as
well as CLU faculty and students. His Web site and blog can be found at
https://gildedraven.com.
For more information, contact Pearce at (805) 493-3316 or visit
http://www.callutheran.edu/kwan_fong/.