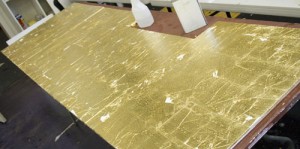 The process of getting the installation ready is beginning to heat up as the date comes closer. It's beginning to feel as if we will never see the end of the gilding. Cameron and I continued to lay gold down onto the panels, and got a large number of the bigger ones done today, but we still have fifteen more pieces to do. I'm confident that we'll get them finished. I'm a little more concerned that the Alchemy of Demolition piece really hasn't gone further yet, but perhaps I'll be able to make some progress with this now I'm feeling more relaxed about the Crows piece.
I need to get a pickup truck out to the home depot to pick up some plywood for the floor that will go beneath the gravel circle, and I have to scribe a circle on it and cut it out, not terribly hard, but time-consuming. 
I want to make a new piece that illustrates the microcosm and the macrocosm, with a donut suspended close to the ground by 360 pieces of string from a large disc that is hung from the ceiling. I'm also considering putting the bottle piece into the gallery in a piled mass, with lighting concealed within the pile.