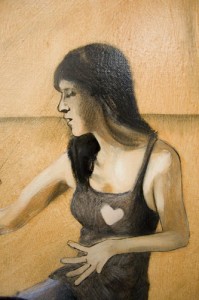 I worked at the Golden Bowl for a while this morning until I welcomed Paz Winshtein to the gallery. Paz is a terrific painter who I've been watching for a year or two, and have wanted to get into the gallery at CLU. She came over to see the space and get a feel for it, and we've scheduled a show in about a year and a half.
What with one thing and another the Golden Bowl didn't get as much attention as I would have liked, because at lunch I foolishly ate risotto without realizing that it was pasta, not rice. I can't eat wheat, so I was sick as a dog all afternoon and I went home, abandoning any hope of getting any more painting done today. I did manage to get a rough version of another face in there, so it wasn't a total loss, but she's going to need a lot of work to perfect her.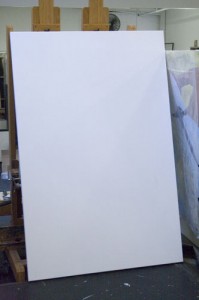 I'm really feeling the pinch of working so small after doing the bigger pieces I did over the summer, so looking at this nice six foot canvas is a pleasant promise for the future. I'm figuring out what the next piece will be, and have a model in mind for it. I'll get some sketching done tomorrow in preparation. I'm still reading and making notes on the correspondence between alchemical imagery and the tarot, which I'm thoroughly enjoying, and I think the next body of work will probably hang on the arms of alchemy and tarot. I'm finding the balance of academic research and painting interesting, because the two disciplines are so consuming, but when one feeds the other so thoroughly the relationship becomes electric. I think I'll work with the image of Temperance, a cardinal virtue shown in the deck as a young woman pouring water from one pitcher to another without spilling a drop. A vertical image this time, because the water pouring will need to have space within which to fall. Besides, the last three paintings have all been horizontal.