We're crazed at the university these days, in the midst of exam week and a frenzy of grading large stacks of drawings and paintings, but I squeezed in a few hours of painting time today, enjoying the company of my students Kiah and Payton, both working on learning en grisaille technique. It's particularly good to see their efforts coming together so nicely.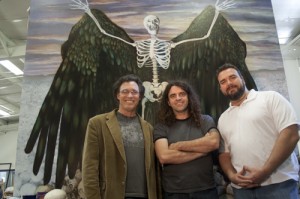 Tony Pro came over to visit with my friend Mike Adams. Tony's not only a splendid contemporary realist painter, but a very nice guy, take a look at his website. I thoroughly enjoyed eating lunch in the sunshine with him and Mike, and sharing war stories about the joys of working at rebuilding traditional painting techniques in the new millennium. It's wonderful to find other people who share the same unease with the total rejection of craftsmanship in making paintings that happened in the twentieth century. I am increasingly convinced that the tide is turning, however, and that this is the time to emphasize traditional technique, putting us in the curious position of being avant garde while reviving what has been considered a dead art! In the photo Mike's on the left, me at centre and Tony on the right.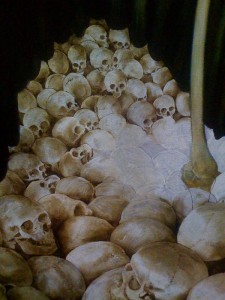 Skull painting is going nicely, but more slowly than I hoped. I've been working on these heads in the middle ground of the painting, which allows me to commit to less detail, but means that I have to proceed with some caution to be sure that I keep them to the right size and continue the illusion that they are piled on top of each other. I'll use a transparent white to glaze over these later on so that they appear to recede a little more than they do right now. I've chosen to paint the majority of them facing toward the skeleton, emphasizing its position in the foreground and increasing the impression that he has pushed his way through the heaped bones, which flow around him, suggesting great strength.