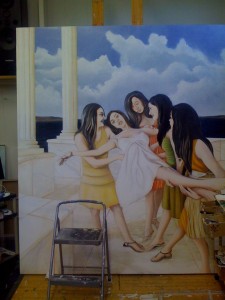 On Thursday I shot photos of one of my students in the role of the Magician – I posted the sketch for it a few days ago. She has a particularly dramatic appearance that's going to be really wonderful to paint, with a high-boned pale face against long dark hair, while a fabulous black and white striped suit makes her light and dark features even more striking. For the sky in the painting I've been looking for snapshots of an amazing cloudscape that Rich Brimer and I witnessed a year ago while we sat in the garden enjoying a glass of wine: cotton balls of cloud emerging from a distant vanishing point, almost gridded across the blue increasing in size as they came toward us. Some skies are so dramatic and strange that they seem unbelievable in a painting. I'm not particularly concerned about my paintings imitating reality so much as presenting a world that might be real, so I think it's time for that extraordinary sky to appear.
I've worked on the pillars on the left of the courtyard, making them more substantial and really pulling their weight in the composition. It's been challenging to find the time to commit to painting because it's the end of the semester, which comes with a flurry of events and exams.
It's been a crazy couple of days. My old friends in Lit Moon Theatre Company have been working on a piece of performance for the Kwan Fong Gallery at CLU, which I have the pleasure of running; last night was the culmination of their work as a beautiful exploration of movement and poetry from ancient Scottish poems, charms and incantations. It was fascinating to see this romantic and graceful performance come from an extraordinary experimental theatre company that has a reputation for reconstructing classical sources – it's unlikely material – perhaps that's why it was such a treat, because it's so unusual a combination.
Romanticism is the cure for Post-Modernism.