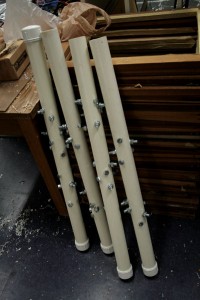 There's a scene in the play when a woman arrives in the rain, soaking wet. I wanted to come up with a way to illustrate rain without actually getting water into the performance space, so I made these rainsticks by drilling holes through pvc pipe, then pushing bolts through and tightening the nuts onto them, then capping the ends after filling the pipe half way with maize. When you turn the pipe over the maize cascades down over the bolt shafts, making the sound of rainfall. I only bought enough corn for one of the pipes today, I'll try some beans in another tomorrow, to see if the sound is louder.
I think they look terrific, almost alien. When there's a drop of paint on them they'll look industrial and nasty, which is in the nature of the character of the woman who arrives. Perfect. The ensemble of actors will use them to make the sound of rain falling. I'll take them to Santa Barbara Tuesday, with the drum and plans for the tree, which I must complete tomorrow!
I've done some sketching of the tree, and begun to figure out how the piece might actually look in more detail. It's all spirals and lights right now, with a hundred hooks for peaches. I think it's made of aluminium with gauzy fabric wrapped about it. I'm enjoying the simplicity of making a three dimensional object that will feel like a drawing in space.