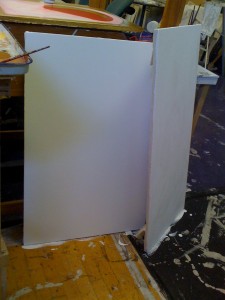 Sunday morning I took photos of Lindsay, who's a tall and slender young lady from my drawing class, whose looks are reminiscent of some of Burne-Jones' lovely models, like his Sibyl in the panel painting to the left. Although I'm particularly impressed by the grace of Aesthetic movement paintings, I don't want to imitate them, so I'll paint her in contemporary clothing while using Pre-Raphaelite techniques to do the work. I think emulation of the past is fine, but imitation is only a technical exercise. I want to use classical techniques to create  millennial paintings.
I planned to use the images as reference for the musicians in the Priestess painting, but I'm so pleased with the results that I've changed my mind and want to paint them as individual works in their own right. With that in mind I asked Joe to prepare some panels with canvas stretched over them then I spent a little time gessoing them. I'm putting the gesso down quite thickly because the panels are small and light enough to hang as they are, which means I can sand the gesso to a very smooth surface without fear of it being damaged upon transfer to stretcher bars.
I'm looking forward to doing these  –  the photos came out very nicely, and there's a simplicity to them that I think will transfer well to the paintings.
I'm still working on the family portrait of my Uncle and Aunt, which should be complete fairly soon. I've put down the skin tone over the grisaille on my Aunt's face, and completed the grisaille on my Uncle's face. I hope to complete the painting by Saturday, freeing me up to move on to painting some small works of graceful feminine beauty.