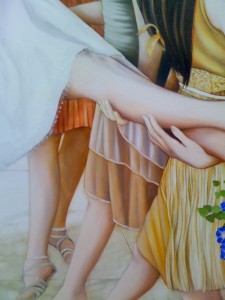 It seems strange to post a picture that looks so similar to the previous post's image, but the work I did today makes a substantial difference to the solidity of the figures, bringing warm shadows to the orange girl's legs and definition to the hands and edges of the dresses. I spent an hour or two with my script brush cleaning up rough edges and rubbing subtle iron oxide glazes into areas that needed shade.
I used Ceramic White to make the top two layers of the newly painted skirt a transparent sheer white, edging them with a denser stripe to make a hem. I want to define the lowest layer a bit more, but will wait for this layer to dry before doing so. I used the same white to lighten the yellow dress to the right because I felt that it was too densely bright against the softer, more pastel colours of all the other dresses.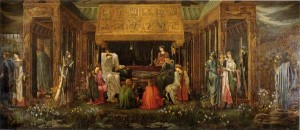 I want to share this extraordinary painting by Burne-Jones, the Pre-Raphaelite painter, that was in London at the Tate Britain when I was there last year. I don't know if it's still hanging as it was, because it was on loan from Puerto Rico, who bought it in the 1960's. I think it lacks the stillness and poetry of his more modestly sized paintings, but it's extraordinarily ambitious, richly detailed and profoundly beautiful, having some remarkable passages of composition within it, notably the group of figures around the body of the great English hero-king. Although this painting shows him being mourned there's an ancient legend that Arthur sleeps in an enchanted cave, and will rise again to save England. I'd quite like to paint him one day.