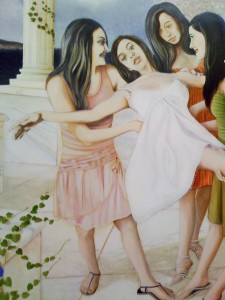 I've completely altered the yellow dress on the left in design and colour, as you can see. I started by painting the sash pink, liking it so much that I decided to continue with it over the rest of the dress, mostly because it works well as a counterpoint to the cherry blossom. With a bit more detail I think this will work out well.
I've added a cityscape in the far distance on the shore of the bay, glimpsed between the pillars. You can see a bit of it on the edge of this photo.
I liked the lacy trim to the white dress well enough to add the same at the bottom hem. I'll pop in a bit of detail later to finish it up.
The Magician painting is sealed with Iron Oxide Red, ready for en grisaille work to begin. (Thanks Joseph)