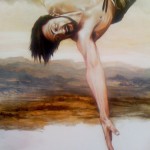 In the studio I've worked on the flesh of the hanged man a little more, adding whites into the highlights and blue into the shadows and the hair. I've scraped plenty of Cadmium Red into the lower arm, reasoning that because he's hanging upside down his blood would have descended to the lowest parts of the body. When I move the platform over so I can reach the upper parts of the body I'll paint the flesh of the leg much bluer, probably referring to Rubens' Entombment of Jesus, where the dead Christ is profoundly blue and yellow over a grey underpainting.
The Los Angeles College Art Association meeting is coming up in a couple of weeks. I've looked over the offerings of papers and can't find any mention of anything discussing the phenomenon of the emergence of ateliers in every US city, nor any mention of the work of countless extraordinary artists who use traditional studio techniques to create great representational art. That's not right! We need to write about the movement, discuss the issues that face us and create a philosophical underpinning that will support studio practice.
We visited Donna Granata's exhibit at the Ventura Government Centre to see the photo she took of me in the studio. It was a nice evening, with members of the Art community gathered together to enjoy Donna's work and good company. I'm allowed to use the image in publicity materials and so forth, so I'll post it on facebook pretty soon.