Here's the first panel with raw canvas freshly stretched over it. To successfully cover a large panel I've found that the way to go is to stretch the cloth as one would with a smaller piece over stretcher bars, placing the panel face down over the cloth, pulling hard from centre to centre and circling the piece one side at a time as you progressively staple towards the corners on each side. With a large piece there's no way you're going to pull that canvas tight by yourself, so don't panic when you flip it over and it looks like your grandmother's tights, simply pour distilled water over it, rubbing the liquid into the fabric with your hand and watch the creases magically disappear. In the picture the cloth is still damp.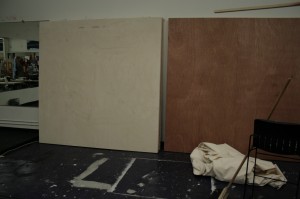 Let it dry for a day or two, depending on how dry / humid or hot / cold it is where you live, then gesso. Here in sunny Southern California I can probably put the first coat on tomorrow, depending on what my priority seems to be in the morning – gesso this so I can get started soon, or stretch the canvas onto the other three so I can gesso them all in one go, saving a little time?
The canvas covered piece looks smaller than the bare wooden one, doesn't it? 
Comparing the skeleton set to the canvas is making clear to me that this really is a life size painting, so I'm excited about the opportunities for concealing little details into the work. There will be lots of nice nooks and crannies to hide little messages and secrets in, inside skulls and bones and concealed in feathers.
By the way, I really don't know who most of the regular readers of this blog are, but thanks – writing this is an incredibly good discipline for me. I feel far more motivated to make work each day so that I can post my progress on here, which in turns helps my students to understand how to make paintings, at least in the way that I understand it. Namaste.