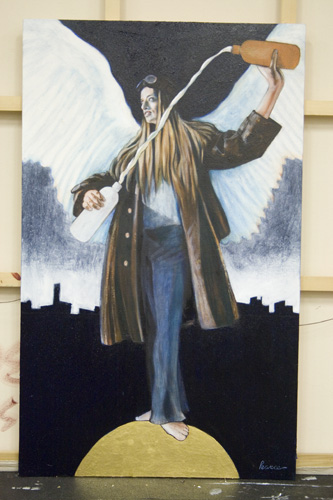 If you want to make a really brilliant blue, red or yellow field in a painting one of the best ways to do it is to paint the area you're looking at white, then put a coat of transparent paint over it. I love the rich dark blue – black that Prussian blue gives me, and the deliciously rich hues of French Ultramarine, but the only way to really get the full range of values from these lovely transparent blues is to put them over a white.
Ultramarine blue will give you a fantastic black if you lay it over a dark brown, too, but it's different to the Prussian in that the latter has a density to it that will allow you to fade from super dark to a much lighter blue without putting that fade into the lower layer; the Prussian simply doesn't have the same rich blueness as the Ultramarine though.
So here's Temperance with a white sky painted in below her wings, getting ready for the Prussian blue layer to bring night-time back to the sky. I already like the dimension this simple skyline has brought to the image, so I'm looking forward to getting the sky back to midnight.
Murray and Megan McMillan and I went out to dinner – what a pleasure to spend the evening with these two smart and gentle people – they're completely lovely. Can't wait to see what they will do in the gallery, but there's a flavor of what they're up to on their blog if you'd like to get a sneak peak…