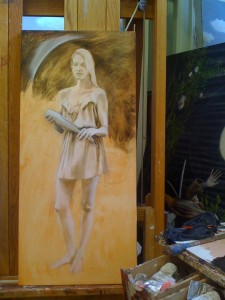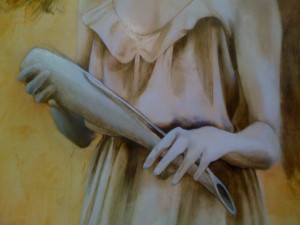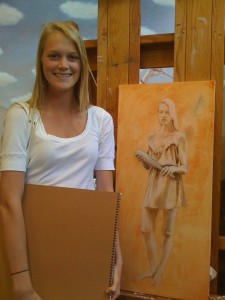 Using Raw Umber I've begun to rough in the shadows of the background, placing the Star before an archway that will be covered in Jasmine. Only small portions of the white arch will be visible, emerging through a blanket of the vine, with a multitude of those beautiful white star-shaped flowers. I love the smell of jasmine and have several plants growing in my garden. I'm looking forward to the challenges of building the layers that will make up the leaves and shadows of the plant.
In addition to building the shadow of the space around her, I've deepened shadows on the vase, defining its shape and giving it more three dimensional mass, particularly concentrating on the hand at the top. I fixed an error in the spout which was too high.
Lindsay arrived just as I was working on the hands, so I snapped a picture of her with the painting.