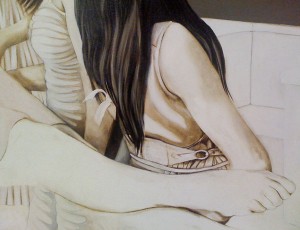 The legs are beginning to take their place, presenting a number of corrections to the structures that are immediately behind them. I've drafted the outlines of the top leg and sketched the bottom edge of it; tomorrow I hope to get the bottom one sketched in with the supporting hands and to work on the Empress' dress.
I got into building some ribbon-like pieces behind a large belt with buckle at the waist of the first girl on the right, getting me daydreaming about designing a harness for wings for her, like my friend and colleague Dru Pagliassotti's heroine in her Steampunk novel Clockwork Heart. If I do so, it will have to follow considerable work on the sky.
I'm thoroughly enjoying the fabric. It's particularly good fun to invent folds and ribbons for the figures to wear, so I'll continue doing this with the other girls.
I've read through the book about Pre-Raphaelite techniques, which is a serious piece of work describing paintings that have been analyzed using x-rays, ultraviolet, chemistry and historic records, including the archives from the art store used by most of these Victorian painters. It's a fascinating account if you enjoy such minutia. I've really enjoyed it, particularly the more personal details that are included in a few descriptions of the artists at work. I'd have liked to have see more anecdotal information about how the painters worked; their approach to the compositions and their choice of brushes.
It was reassuring to find out that they generally used copal (a resinous drier not unlike the walnut alkyd I use) and curious that they liked Zinc White, although even in their own lifetimes they discovered that this is not a good choice for paintings that one might want to last for any length of time because the paint cracks up readily, causing damage to the surface of the painting. I wonder if it was simply exciting to use a new pigment? When the Pre-Raphs were at their peak Winsor and Newton had come up with a new process for creating Zinc oxide that had not been used before.
It was also reassuring to learn that they weren't supermen, sometimes redrawing their work because they were dissatisfied with their compositions, even throwing away or abandoning paintings that didn't go well.
Painting wet white is noted, but the writers don't describe the technique, presumably because they're not painters. I'm finding it pretty easy to imitate in the studio and I like the soft blends it gives me. So far I've only used it en grisaille (actually en brun), but I'm sure it's equally effective as a method for rendering colour into areas of the work like dresses or foliage.