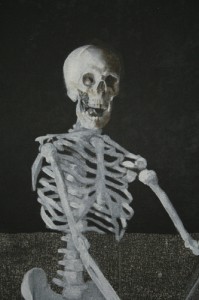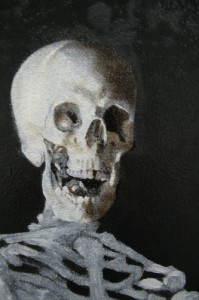 The twins are drying behind me now, having traded places with Death, whose posture reminds me of a metal guitarist and makes me smile each time I look at him. I've spent a happy hour or two working on the skull, building more accurately defined shadows and adding a few carefully placed highlights. Now that the first layer is down and mostly accurate it's a matter of building adding a layer of some creamy yellows and cool greys into the surfaces, getting the detail of the teeth.
I'm looking forward to working on the rest of the bones, with all those lovely accretions that add texture to the ends of the long ones. The skull needs a third layer to pull out the highlights.
I'm really enjoying working on this – it's a nice mixture of technical painting with a rock and roll flavor and it's good preparation for a private project I'm going to do over the Easter break: a mural including a large skull.