I worked on a drawing for Justice today, producing a pretty decent rendering of a blindfolded woman, standing within a circle with a dress that doubles as a blade. The circle discretely becomes a yin yang symbol and includes the balance in the centre of each half of the duality. I'll have to post the drawing here tomorrow because I managed to leave the sketchbook at work, as I often do, which is why I have three or four sketchbooks scattered around, at work, in my office, and at home so that I have no excuse. I plan to use my Pre-Raphaelite student as model for Justice. She'll be perfect.
The beautiful dancer and choreographer Caitlyn Carradine of the Los Angeles Contemporary Ensemble is going to pose for me as Temperance. I'm so pleased she said she would – she's exactly right for the painting.
As far as envy goes (not pride – my bad, apologies for the edit this evening) it's the opposite sin to the virtue of Justice, so I need to figure out how I'll express this in the Justice painting. It's tricky. I have to mull this one over for a while.
I made a drawing of the seven virtues. I like the idea of putting them all together and somehow using the iconography of each to identify each figure, without the props that usually are included.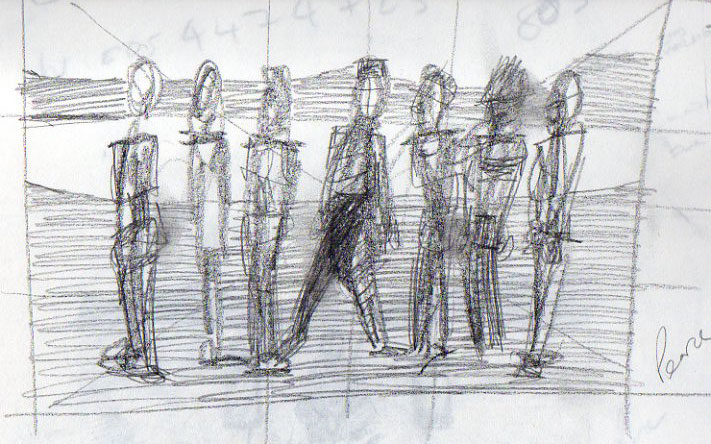 My painting and drawing students are excelling in their work, and need guidance, which I love to give, but means that I can't make my own work. I must be honest and confess that after the hurly burly of getting the show up I have found it very easy to procrastinate, but I'm au point now, ready to get back into it, so I need to get on the ball and shoot pictures for the paintings and get on with the work. Fairly soon I'll be able to show my students how to get their teeth into a larger piece of work because they're getting deeply into making their first self portraits and will soon have the necessary skills to start being more independent. I like this group of drawers and painters very much, they're doing really well.
A photographer from the Ventura County Star is coming over tomorrow afternoon to shoot pictures of the exhibit and a journalist from the paper has called and asked for information. I'll keep an eye out for the story and post it when it comes out, of course.