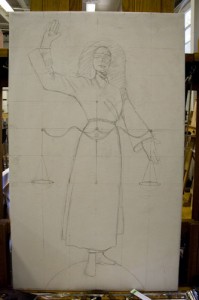 Here she is!
I'm happy with the composition, laid down the centre line of the panel, with the figure centred on the navel. She's looking good. I put a blindfold over her eyes, as is traditional for blind justice, and sketched in the scales quite loosely for now. I'm going to need to find snake reference materials so I can make a mass of them around the globe she's standing on. I like this. I may add a sword to the composition.
It's good to get back to work.
This afternoon I hope to get started on Temperance. Once both drawings are done I'll get the primer down, and tomorrow I should be able to get into the en grisaille. I'm a bit behind with Fortitude, yet to sketch and shoot pictures for it, but I don't think that really matters too much. I can work on that while simultaneously painting these. I do have my model for the image, and the pose is fairly straightforward.
I really like the pose she's in, she's very poised and balanced, just the way justice should be. I'm looking forward to painting her, I think she'll be beautiful.