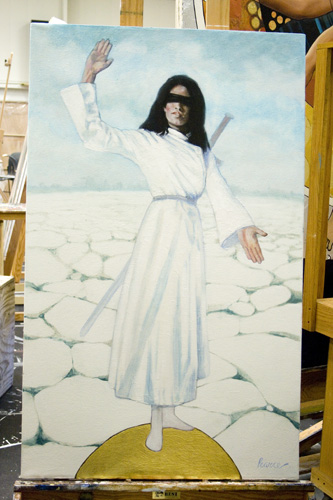 I've been very preoccupied with getting things ready for Megan and Murray, who are coming to the gallery tonight, starting work on their installation for the university. After making sure that they had a place to stay I continued working on Justice, making some progress on an broken icy landscape that stretches away into the distance. This is a good first layer, that will get more refined with a few more glaze coats to add some gentle variation to the surface of the ice.
Justice and Temperance are almost complete. Only twenty more to do!
This evening I'm going to attend an opening reception at the High Gallery in Moorpark, where a very nice show of portrait painting is opening up, including some of Francesco's work, who I mentioned in a post a couple of weeks ago. I'm looking forward to it. After the reception I'll head back to campus to meet Megan and Murray.