This was a great day.
After running a mile and practicing yoga with my friend Janet  this morning I spent a cheerful few hours installing Chris' Gilded Ravens at his house. It was fluid and simple work, and turned out so well! I'm really pleased with the appearance of the piece, and so happy with the mosaic nature of the changing sizes of the panels.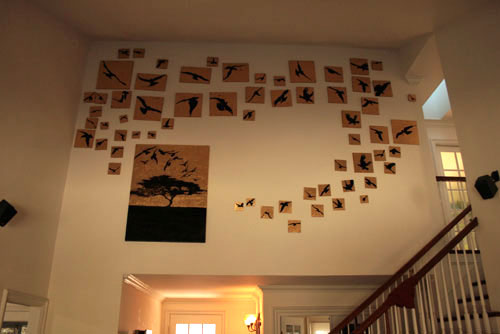 After finishing up at Chris' place I drove North to Santa Barbara where I had the great pleasure of meeting with Mitchell Thomas and Miller James, the costume designer of the Peaches play I'm designing up there. It was so pleasant to sit at the end of the pier amongst a flock of hundreds of pelicans soaring amongst the fishermen and sailboats, discussing how the play would appear. 
After this wonderful lunch I found some time to chat with my composer friend Jim Connolly, who must be one of the nicest people in the world. Among other things Jim told me a story of walking through a canyon in the darkness, and coming across a pair of deer, so beautiful beside the trees, and how important it is to take the time to love life. I've been listening to Kate Bush's record Aerial recently, and it occurred to me that she spends most of her time on this record singing about the simple beauty that is to be found in everyday events. She sings about her son's smile, the number 3.142, her washing machine (Kate Bush's washing machine, for crying out loud!). She reminds me of Tolkien, writer of Lord of the Rings, who loved words and took great pleasure on finding the beauty of prosaic words: try it, just enjoy the sounds of the words as you say "cellar door". Beautiful, isn't it? So, I'm looking for simple beauty in everyday life.