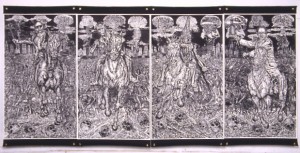 We're opening a show of spectacular woodblock prints in the gallery this weekend that have made a big impression on the people who have passed through the gallery while we were busy installing the exhibit, not to mention the impression they've made on me. Patrick Merrill is an amazing printmaker, making huge images based on the apocalyptic visions described in the Book of Revelation, a particularly arcane text at the end of the New Testament.
This image is his Four Horsemen, by no means the largest of the works in his exhibit, which are up to twelve high.
If you're near Thousand Oaks, California, come to the gallery this Saturday evening at 7pm for the opening reception, meet Patrick and enjoy good company and good food.