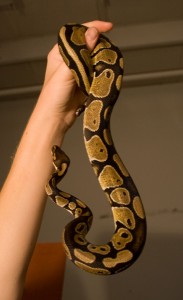 Today was crazed, in a good way. It started right off the bat at nine by setting up for a photo shoot for the Virtues painting, with my student Devon modeling for the four cardinals, Temperance, Fortitude, Prudence and Justice. I loved the shot we got for Temperance – she looks like a ballerina with the two vases held high and low with arms akimbo, and Justice turned out great, with a nice sword pointing to her outstretched foot. I wasn't too thrilled with the way Fortitude turned out, so I'll rework that one soon. Devon had a special surprise for me when we got to Prudence – she opened up her bag to reveal her pet snake, a young Python who seemed quite willing to curl around her hand for his picture.
After we shot the pictures I spent a little time working on photoshop to create a composite image of the three that we can use for the painting, arranging them so that they create a nice stepped composition coming away from the centre of the painting. I'll need to continue with the work in the next couple of weeks so that we can get to work drawing out the composition.
Over at the Angel of Death canvas I'm planning to get back to painting the peacock feathers on the wings this evening. It's accompanied by a newly gessoed 8′ x 8′ canvas which I'll use for the Empress painting, although now that things are moving faster as we accelerate to the beginning of the academic year I'm not quite sure when I'll be able to get it started.