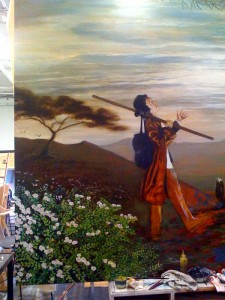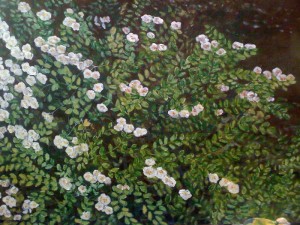 No rusty reds yet, but there are three greens over the grey, making a pretty layer of leaves which will work out very nicely when I define them a bit with some dark brown and a little detail.
The colour is a bit off in the bigger picture – the orange of the iron oxide is jumping far too much, but I wanted to show how the flowers are working in their context. I think they're still a little too bright, so I might glaze them with a thin Raw Umber (a greenish brown) to quiet them a bit. It's quite nice to compare this shot with the one in the previous post.
I'm pretty happy with this though, it's on the right road. Perhaps a few more flowers to the right hand side of the bush?