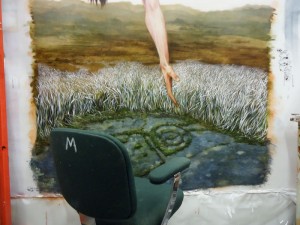 Although I have to say that creating grass is the most boring thing in the world, I guess the patience that it requires pays off in the end and I like the way this is going. Doing this repetitive painting reminds me of the work on the Angel of Death when I painted skulls for months, going a little crazy in the process. Fortunately I won't have to do this much longer, although I think I could use another strip of the leaves above what I've already done.
Shortly I'll paint some colour over the whites, looking for a little texture and variation of hue to make the grass come to life a little. The deadline for the Carnegie show is looming, and I'm feeling the pressure to complete another big painting before the exhibit opens.
I heard some good news today: my paper about the identity of Bembo's Visconti Sforza Magician has been accepted at the fourth International Conference on Esotericism, at University of California Davis, in July of this year. This will be the first test of material that I've been working on for my book on late medieval tarot cards.