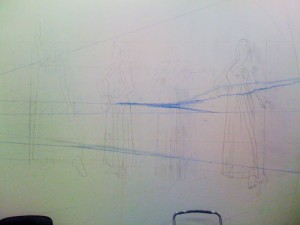 The outline of the four figures has been drawn onto the canvas, after a bit of fiddling around with composition. The blue lines in the background are the coastline, cut by the grey lines of the low wall behind the women. I'd like to make some changes to the figure of Fortitude so that she's holding a mace's head in her hands.
I'm totally delighted to see the work start emerging, and my students seem to be very involved and enjoying learning some of the tricks of the painting trade. I want to get this piece done fast, ideally before Christmas, so we're under a bit of pressure, but I'm trusting that my students are able to help with the work to sufficient quality that the piece will be terrific, even with this time constraint upon us. We'll be able to start sealing the drawing as early as Friday if we can render enough of the simple outline work this week.
Temperance, Fortitude, Prudence, Justice.
Tomorrow we'll shoot pictures of Faith, Hope and Charity. It's quite convenient having the same model for all seven virtues! I'm still looking for the right person for the Traveler, who will stand in the left hand side of the painting.