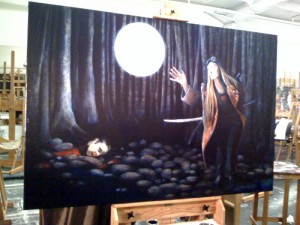 I had a busy, busy day today. I picked up Amelia from the High Studio a few days ago, where she had been waiting for me for a month or so and finally got to do some work to her. Looking at her in person reminded me how much I wanted to drop back the blues of the trees, which were so bright that they popped out of the painting. So I mixed up some Ivory black and glazed the entire background, then wiped the glaze away, using a sideways motion on the tree trunks to add some bark-like textures, resulting in a far more balanced painting.
I'm almost done with this now, but I can't help wondering if there's some detail work I could add to it to hide some little secrets in the painting, perhaps in the low left corner where there's not much going on at the moment.
Perhaps a frog watching what's happening, or some insects?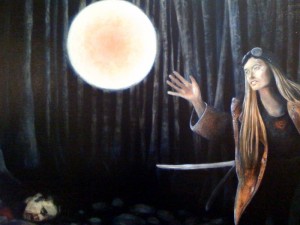 The photo seems pretty overexposed, probably a problem with the phone I shot it with. I guess I'd better get back to using my camera to shoot with, but the phone is so convenient. The colours are often out of whack with the phone too.
I retouched the globe with some Ceramic White because the black glaze dirtied it. This dropped back the orange a bit, which I'm actually pretty happy with. I think the painting is far more dramatically centered on Amelia now, which is at it should be.
I wonder what happened to Caitlyn Carradine, the model for the painting. She went to Germany to do some choreography, but I'm not sure if she came back to the US or not. I was hoping to work with her and Derek on a dance project in Death Valley, maybe it can be revived one day. I think it would be worth doing. We had talked about a dance piece with alchemy, made for video.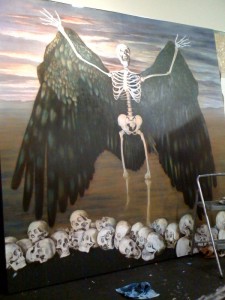 In addition to redoing Amelia's background I added a second hand to the bones, making him really handsome. I love this painting! He's looking increasingly impressive, especially when he's lit with a spotlight. He practically jumps off the canvas when he's got a glowing light radiating over him.
It was great to paint today, I loved it in the studio, even if I'm still feeling a bit crummy from this cold – it's the best place for me. There's nothing like painting with a hot cup of tea ready to drink and good rock and roll playing in the background.
I really will have to do something about the quality of the pictures I'm posting. These are really poor. Look for better images next post.