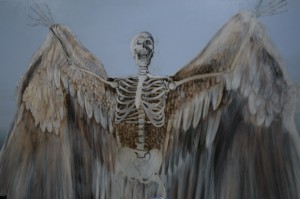 The wings took a giant step forward today after some serious time spent in the studio this morning and an additional shot at it this afternoon. Take a look at some of the feathery detail in the large image behind the small picture here. I'm really enjoying putting the shadows around the feathers, painting the shadow that's cast rather than the feather itself. It's very effective here where I've used it to pop out the bones of the ribs from the feathery background.
I used that Ceramic white that Steve gave me – it's pretty good stuff – I can use it for bright opaque highlights and also find nice Zinc-like milky glazes. That's pretty handy!
I have almost no time to write this evening because I must get to Ventura to meet Donna Granata for the pre-interview interview for her Focus on the Masters event in a week, when I'll be interviewed and answer questions for an audience. She archives the interview with magazine cuttings and other documents, making the archive available to scholars and institutions researching artists in California. It's quite an honour to be included on the list.