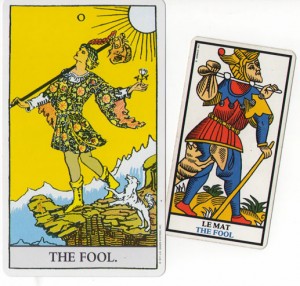 I'm posting a couple of pictures of the Fool from the Marseille and the Waite Rider decks so that I have a clear note of source material for the Traveling Man painting. I've always been fond of the Fool, who blithely steps forward onto his next step regardless of the beast biting at him, or the precipice before him – I like the blindly heroic nature of the character.
This afternoon I'll shoot pictures of my student Cody, who I think will do very well as the traveler in the painting. It will be nice to get back to painting a figure after all these bones.
I've also been digging through my pictures of Death Valley for landscapes, finding a few useful epic views that might be useful, but I'm also looking for images of plants (poppies?) that can work in the foreground of the Angel of Death.