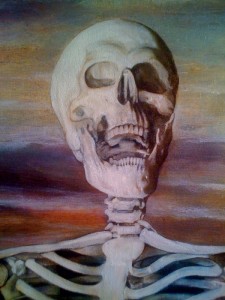 Goodness, I feel awful. My head is full of cotton wool.
I've glazed both of the wings with the oxide now, so neither are as overly blue as they were, and I re-rendered the skull and began working on correcting the bones again. Now that the sky and wings are well established I'm revisiting the bones to correct the details which have been lost as a result of the work that has been going on around them. The neck bones have bothered me for a while, so it felt good to correct them, but I have not taken a close look inside the mouth of the skull to see what should be going on behind those teeth. It was a real pleasure working on this, because there's a rainbow of paint in the skeleton now, with colours that overlapped when I was working on glazing the sky and the landscape mixing together to vibrate subtly on the surface. Blues, reds, purples and yellows are all present over the warm browns and whites.
I used Ceramic white and Van Dyke Brown with a touch of Iron Oxide to clean up the whites.