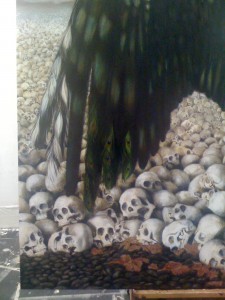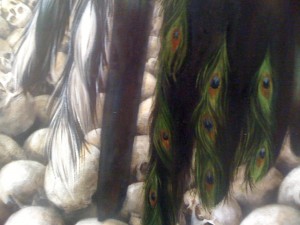 More peacock feathers have emerged on the wings, after trying out a green glaze with a little Iron Oxide Red and some Cobalt Blue to create the eyes. I'm going to try a little white highlighting, then a glaze of Ultra Blue to finish them off. On the left there's another batch of the feathers based out in white and Van Dyke Brown which will get their colour tomorrow.
I've glazed the leaves with Ceramic White to unify them with the background. Next I'll re-establish the edges of the leaves with a touch of Raw Umber. I want to try this out as my first colour for the first layer of my figures when we start work on the big canvas, because I've been admiring the work of Burne-Jones, who appears to have used it for establishing all his figures, mixing it with white for highlights. He was a superb Victorian Pre-Raphaelite painter who was a great friend of William Morris, designing the beautiful Kelmscott Chaucer with him, a book I've always loved, which is now worth a quarter of a million dollars. I was able to admire two copies of it at a book fair in London in May and was overwhelmed by the beauty of its elegant type and border work.
Joseph has continued with gessoing the big canvas, almost reaching half way across. I'd better get to work designing the painting!