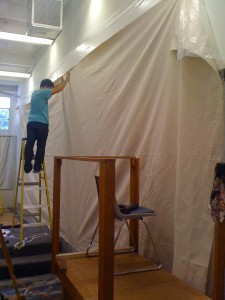 We had an exciting time hanging the giant canvas onto the wall. This painting of the virtues is by far the most ambitious project I've considered, and I'm really looking forward to getting started on it. I have yet to draw a developed sketch of it, but it seemed sensible to get the canvas on the wall ready to start before the hurly burly of the beginning of semester came.
In the picture Joseph's up on the ladder as we begin to stretch the canvas. Garrett and Larry also helped to get the work done. First we put plastic up so that the canvas has no chance of sticking to the wall when it's gessoed. We'll have to get it completely hung today so that the weight of the fabric doesn't make it sag.
Cameron's gone up North to the icy wastes of Washington after four years here at the University. He's been an invaluable helper and a great student. Cameron, thanks for all your work, good humour and enthusiasm. We'll miss you!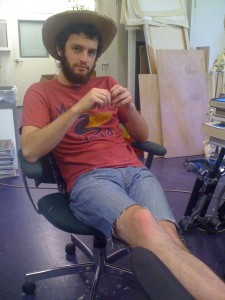 (nice hat)