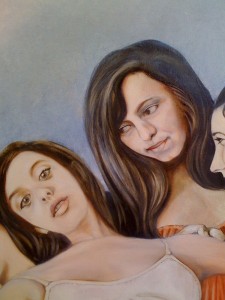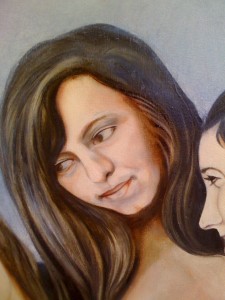 I got up early today to get to the studio before other commitments took control of the day, working on altering the expression of the face from scary grin to a more detached, even slightly envious appearance. I'm much happier with this mouth, which pulls less focus from the Empress to the central girl's features. I began feeling out the second layer of the hair around the sides of the face, hinting at what's to come.
I'll certainly have to do another layer or two on all the faces, which are presently very simply rendered in the velatura layer – indeed, I have yet to paint this first layer of flesh onto the hands on the right of the painting, and those fingers peeking out from the shoulder of the Empress. The face I worked on today still shows evidence of the previous version, so I will add more paint to cover it more thoroughly.
My old friends from Lit Moon Theatre Company are coming down to CLU for rehearsal this weekend, preparing for their performances next weekend in the gallery I run at the University. They're working with material that I love: the Carmina Gadelica, a collection of Celtic poems, charms and incantations that were gathered in the nineteenth century Highlands of Scotland by Alexander Carmichael. I'm really looking forward to seeing what they do in the gallery, which already looks intriguing, with many curious trees clad in pale fabrics created by Design students in Russell Jaeger's classes at the University.