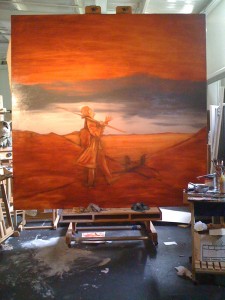 I built the Traveler's sky this morning with Flake white and a little Ivory black, then letting that set up for a while during grocery shopping time, then scraping on some of that nice bright Ceramic White over the top of the grey and using a large brush to soften the knife marks and turn them into clouds. I'll need to drag the platform over to the easel to complete the high part, which is ten feet in the air at the moment. This picture doesn't look anything like the actual painting, although I shot it with my Canon, so it should have been ok. It was pretty gloomy in the studio all day, with a dark sky that looked as if it was going to rain all day long – unusual for Southern California.
I'm really enjoying seeing the man against the sky because it gives me a strong sensation of the potential depth of the painting.
I think there needs to be a tree on the rise to his left.
I've been working on the Traveling Man piece instead of the Angel of Death, first simply because I've been so focused on the Angel for such a long time that it's good to take a short respite from the work, and secondly to get a good start on the next painting so that there isn't too great a feeling of let-down once the Angel is complete. The piece is only one of a series after all, so I need to keep the momentum going.
I imagine the four pieces forming a cyclical narrative: The Angel of Birth, The Traveler, The Angel of Death, and Between Death and Birth. I'd love to build a cubic space for them, with a cosmos-painted ceiling and black glass floor lit from below.