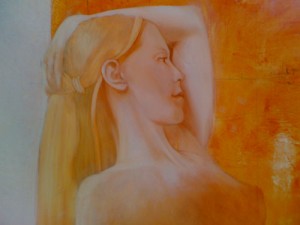 I've taken a morning figuring out the values of the face and neck, using a Foundation White as a local wet white ground, then White and a flesh mixture of Cadmium Orange and Viridian to generate the darker areas. Although I'm becoming happier with the composition of the face I'll continue editing her and modifying the details and subtleties of the shifts in value and colour for the duration of the painting.
I painted the background walls with a pounced glaze of very pale yellow, as subtle and delicious as Devonshire clotted cream. Painting the glaze thin is important because it allows some of the warmth of the Iron Oxide Red to come through, giving the wall surface the subtle shifts in colour that really do appear in natural light.
Working on the drapery was very exciting, presenting a new challenge that I really enjoyed. In the photo on the right you can see what I'm planning at the moment, although it may well change as I get to work today, because problems and errors always become apparent while working.
You'll remember that I decided to design clothing for her myself, following the example of Pre-Raphaelite Burne-Jones, who invented fabulous homages to Medieval drapery in his work, as you can see in the first picture. I love his delicate drawings – he's got such a sensitive touch. I looked at the neo-classicist Alma-Tadema's Coign piece too (second picture), taking the arm and sash design from him. We saw this lovely painting in San Francisco some months ago. I really like his colour choices for his fabrics, which are richly hued without being too bright.