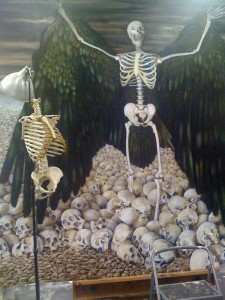 Ribs don't join the sternum as bone, there's a cartilage bridge that connect them. I've not seen a recently exhumed skeleton, so I'm not entirely sure what this would look like, and my only real medical skeleton has some rather poorly done filler material that I'm sure is not at all realistic. My fake plastic skeletons are not much more helpful because although they're very good reproductions of the physical structure of the bones, they may not be entirely authentic. I found this New York Times article on a fantastic medical atlas – fascinating, but the bodies were embalmed, so again I'm left uncertain of the true colour of the bones and cartilage.
I went to the Bodies exhibit in Las Vegas a year and a half ago, which was wonderful as an insight into the way the human body is arranged. If those colours are true, then the yellow cartilage beside the sternum should be about right with this Raw Sienna glaze, although the bones generally have a more yellowish cast, too.
My colleague Brian, who has been in and out of the studio recently told me to remember that I'm painting a walking skeleton with giant wings and not to worry about it! Good advice.
I've darkened the deeper shadows of the wings so they recede more, and popped in some drop shadow behind the skeleton against the feathers. I also ran a little black around the edges of the wings, into the angel's surroundings so they drop back a little, in contrast to the skeleton, which I want to come forward in the image. Soft edges recede, hard edges come forward.