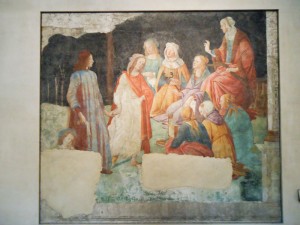 It's truly an extraordinary experience to see room after room of great art in the Louvre, although despite the exceptional quality of the huge collection of ancient sculpture from Rome and Greece, the wonderful Egyptian antiquities, and the splendid decoration of the former palace itself, it was the sight of two damaged fresco paintings stripped long ago from their home in Italy that really made me catch my breath. All the bustle of tourists marching to the Mona Lisa fell away, and for a moment I felt completely alone with the grace of Botticelli's beautiful paintings.
His women are cleanly drawn, with fine-featured tilted faces that are astonishingly modern for an age when the the ideal of feminine beauty was completely different to that of today. The hands are those of dancers, with delicately extended fingers in light gestures that remind me of my daughter and her friends at their ballet class, while the clothing is simplified and richly colored, with impossibly full flowing drapes that enhance the sensation of observing a sensual dream.
Pre-raphaelite Burne-Jones surely must have seen these paintings, using them as models for his long-limbed, graceful figures, but while Botticelli was limited in his time by the religious revival that caused the destruction of some of his Neo-Platonic works, Burne-Jones was freed by a more rational nineteenth century that allowed him to push further, transcending his predecessor by creating a romantic and luxurious medieval world of chivalrous knights and graceful ladies and effectively becoming one of the first fantasy artists.
Big crowds at the Birmingham Art Museum relishing a rare chance to enjoy an exhibit of the Pre-Raphaelite drawings that led to the painted master works produced by that aesthetic brotherhood of Victorians; enthusiastic fans of Millais' Ophelia and Waterhouse's Lady of Shalott at the Tate Britain and the swell of interest in figurative painting found in the American atelier movement fill me with excitement for the future of painting, particularly if we can make paintings that speak in rhythm with the zeitgeist of the time; with the narrative of the present.