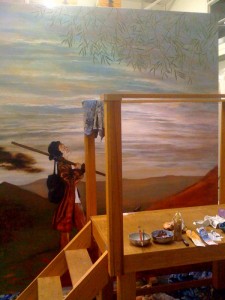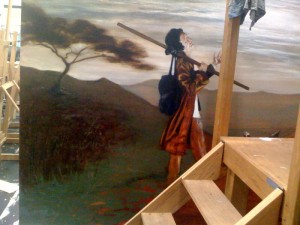 I've been having a good time in the studio tonight working on the branch up above the traveler and the landscape to the left of him. I've used my palette knife to scrape excess greens and browns onto the surface, then a soft brush to soften the landscape as it recedes from us. The browns will become a bed of wildflowers, while the foreground is going to get muddy and turn into a pathway. I gave the trunk of the tree a little more substance so that the middle ground is a touch more in focus, giving me some room to get really soft in the background, while the foreground can still be nice and sharp so that it pops forward.
I need to find a dog to place behind the traveler, snapping at his heels. I think this companion is warning the man of his impending danger – presently I see the allegory of the Fool as a warning against becoming so absorbed in the mystical exploration of god that we forget to live within the world, allowing ourselves to fall into disasters by not paying attention to what lies ahead in practical terms.
The first layer of leaves is looking good, but I think I need to put a second layer of acacia over what I've already done to add substance to the foliage, this layer feeling a little thin as it stands; its simple style still reminds me of Japanese watercolours or woodblock prints – not that that's necessarily a bad thing, but it's not really what I'm looking for here.