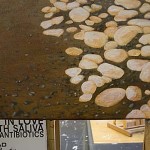 I'm getting my share of painting rocks right now, although the work is worth it because it's making a rich textured surface. I mingled grey stones among the white / orange ones, a simple mark of dark grey with a white highlight on one side and a dark shadow on the other. Very easy, but there are so many of them to do. In order to continue getting the depth I want I'm painting the pebbles that are closest with most detail and contrast, and the ones that are furthest away with a softer and lighter touch, a greyer paint.
I painted the rod white and started fixing the black shoe, which is still not right. I'm going to need to focus on this with greater clarity than I was able to find today.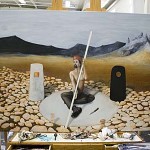 I'm really enjoying making this painting, so much that I'm beginning to neglect other works. I must get the panels ready for the As the Crow Flies additions, and the Golden Bowl has rested untouched for a couple of weeks, deserving better treatment than that.
This morning Art and Doug came over to take photos for a slideshow that they're making for the university website. I will post it here as soon as it's finished.