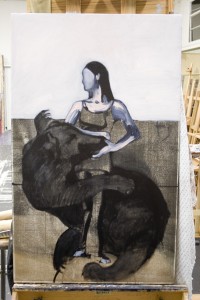 Here's a strange coincidence: I spent several hours researching bears and wolves yesterday in pursuit of reference images and to learn how they are put together and specifically how they appear when they attack. Today I've spoken to three of my friends, all of whom either dreamed about bears and / or wolves last night or spent the day reading about them. Very odd! The collective conscious is working overtime.
Pretty rough and ready work so far, but the bones of the work are good, so I think this should take shape pretty quickly. I don't recall making up quite so much of such a key character in a painting before. This will be a good challenge, and fun to do.
By the way, reading about wolf and bear attacks was pretty un-nerving. Those are some ferocious creatures.