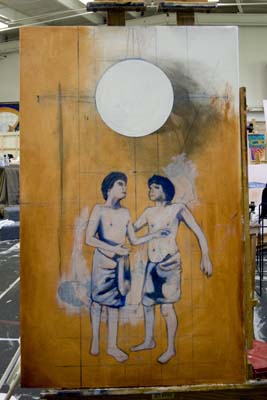 Looking forward through my plans for this day I realized that I would have almost no time for work in the studio unless I got into it right away, so after I ran and did my yoga I got straight to work on the Twins piece, which I am enjoying already. I had wondered if the boy on the left should have a hand in front of the one on the right and initially left it out, but then decided that the hand was important after all, so I redrew the forearm to raise the hand higher on the chest, over the heart. I see the painting as the moment that the elements are combining to make the stone, represented by the sun above, so I want to capture a moment of drama as the process is just beginning. His hand over the heart of the twin on the right will be causing a glow to emerge from his chest as the combination begins. 
I began gessoing the sun, which will need multiple layers before I'm able to put down the red layer and finally gild it. It's nice to be able to do this now instead of at the end, planning ahead properly is paying off! On the other hand, spontaneous creativity should be indulged too.
I'm going to Santa Barbara this afternoon to work on the tree and meet with Mitch and the Prop master, Garcia. I'm enjoying the process very much, wish I had more time to dedicate to it. Fortunately Lukas the Technical Director is very responsible and enjoying the work, so I don't have to freak out about it.
Just heard from Letitia at the Simi Valley Mall (remember the Alchemy Tree project?). She wants me to produce another installation for Earth Day, so I have to meet her next week to see what the theme is this time. Looking forward to that.