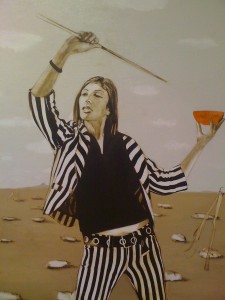 The Magician increasingly gains solidity as the Raw Umber rendering materializes over the roughly sketched outline and white base painting. The sketched wand will take a decorative spiral twisting around the handle, while adding detail elsewhere will make different features sing. I've chosen to make the wand long so it corresponds to the sticks with the cloth attached to them.
I've asked Sam, my model, to visit the studio to see what I've done so far and to have a little time for live reference to her so I can find idiosyncratic characteristics in her features.
I'm thoroughly enjoying the work, and looking forward to the next layers, which will bring whites mixed with Raw Umber to the flesh, followed by the velatura layer that will make her look more lively.