Las Vegas is a long way from my home, both spiritually and physically, and driving towards the city's mock New York skyline and gilded towers I felt it's one of the vortexes of human sadness in the world, where we think everything will be beautiful, but the delusion is complete.
I feel tired when I walk past the rows and rows of slot machines, with almost catatonic players automatically pushing their magic buttons, attempting to beat the system at any time of day or night to claim a small victory over chance; it seems like such a completely futile pursuit. There are so many better things to do, to spend time producing things that make the world better, improving the situations of our poor and hungry people, making art or music, writing and thinking – simply raising children to live full lives.
But Vegas isn't just a place for gambling and satisfying our desires for bright shiny things – like Disneyland it's one of the great installation art pieces in the world. Here, we are enveloped in an artificially created environment that encloses us from the natural world. Sensually overwhelming, the lights and sounds are reminders that we are in a place where our everyday lives are separated from us; this is not your tract home in the suburbs, your apartment with the noisy neighbors. This is the monstrous daughter of television, a giant screen that slides effortlessly before us in three dimensions presenting the spectacle that this life is better than our ordinary lives at home.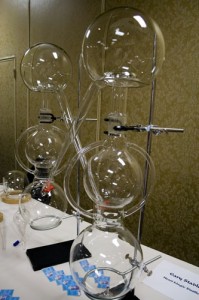 Here and now, however, within the plastic facades of this casino the alchemy conference shines a little light into the shadows. We've learned about the distillation of metals, how to create an essential oil of frankincense, and the spiritual quest for the prima material.
I was honored to speak to the assembly about the symbolism in my paintings and the background of the renaissance alchemists and Neo-Platonists. It went over well, with plenty of positive comments about the work. A lady told me that the paintings moved her to tears.
I'm really grateful to the organizers of the conference for their grace and kindness in allowing me to participate. Thank you.