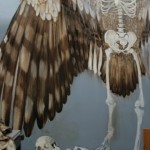 Things are moving fast now, and I'm on a roll that is letting me paint fluidly and well. The wing's third layer is complete, so I'm moving over to the right hand side. 
Using a half inch flat hog bristle to slap on the Van Dyke brown, then a towel to bring in texture, a soft t-shirt rag to soften the quality of the paint, and finishing with a 00 liner to pop in the details and dark shadows between feathers.
Once the third layer is complete on both wings I think I'll move to something else, just to feel a little variety for a short time.