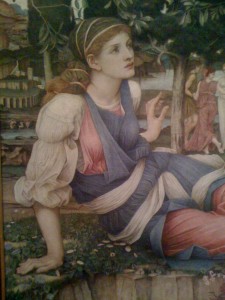 John Roddam Spencer Stanhope
Love and the Maiden (detail).
Here's a detail of a fabulous example of late Victorian painting. She's fantastic, isn't she? I found her quite by accident at the Legion of Honor Gallery in San Francisco's Golden Gate Park, in the company of a beautiful Bougereau and a lovely Alma-Tadema. There's an image of the whole painting here of better quality than my cellphone snapshot. I want to emulate this kind of work in my Empress painting, which will start taking shape this week. Now that I've returned from San Francisco I can focus on working in the studio again, although I need to take care of a bit of administrative work too, so watch this page as the Empress and the Virtues start to come to fruition.