Michael Pearce is an English figurative painter who lives in Ventura County, California.
While on the surface Pearce's paintings are romantic escapes from the hard edges of daily life, celebrating colorful flowers and beautiful people, there's a mythic depth to them that reveals the artist feeling his way out of negative deconstruction by drawing upon archetypes and allegories from centuries-old emblem books and alchemical symbolism. Pearce digs for conceptual themes in the paintings that capture his audience by encouraging their individual imaginative interpretation of the events he has painted. There's meaning here – a reconstruction of ideas bigger than ourselves – that makes these paintings feel greater than their already large size.
In addition to his successful career as a painter Pearce has a strong background in scenography and installation art. Although he has lived in California since 1990, his love for his previous homes in Wiltshire and Devon has never left him and has powerfully influenced his work, and he regularly visits England. In 2008 he completed a PhD at Plymouth University, submitting a dissertation on Neolithic British ritual art and architecture. He teaches at California Lutheran University in Thousand Oaks, where he is responsible, with his friend Michael Lynn Adams, for organizing The Representational Art Conferences (TRAC). He is editor of the Proceedings of the Representational Art Conference, and author of Art in the Age of Emergence, a remarkable book about the aesthetics of representational art in the emergent age.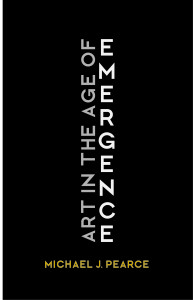 Reviews of Art in the Age of Emergence:
"Michael Pearce is that rare phenomenon – a practicing artist who knows art from the inside and an intellectual versed in what the cognitive sciences teach us about why we make art. This book – part personal meditation, part philosophical exploration, and part scientific survey – is rewarding reading."
Stephen R. C. Hicks
Author of: Explaining Postmodernism
"The slow but steady return of representational art to the mainstream cannot – and should not – be complete until it is examined, like all worthy artistic phenomena, by learned and incisive commentators who can place it in its proper philosophical contexts. With Art in the Age of Emergence, Michael Pearce has provided just such an analysis, one that is both welcome and accessible to anyone who wants to understand how and why this important development is underway."
Peter Trippi
Editor-in-Chief, Fine Art Connoisseur Magazine
"An author's greatest joy is to see his life's work brilliantly applied to new fields. The new paradigm of emergent complexity that is revolutionizing the sciences has indeed launched us into a new "age of emergence." With penetrating insight and provocative examples, Michael Pearce builds a new theory of art upon "emergent experiences" and the artworks that inspire them. This is aesthetics in the grand tradition – after reading it you won't see mind, matter, or art in the same way again."
Philip Clayton
Author of: Mind and Emergence: From Quantum to Consciousness
"Michael Pearce's Art in the Age of Emergence is one of those rare things – a genuinely constructive work. Drawing on resources from philosophy, spirituality and neuroscience, as well as his own engagement with the world of representational art, Pearce both acutely diagnoses the aesthetic bottle-neck of our times and points a way forward to a more aspirational and authentic form of art creation. Though some hackles will be raised by his deft puncturing of postmodern shibboleths, more will cheer. This is a book that is likely to influence and inspire artists for some time to come."
Nathan Tierney PhD
Author of: Imagination and Ethical Ideals
"Pearce is perhaps the only serious art writer in America who offers toasts to Bouguereau and looks to theology for ideas about aesthetics. He is already at work on another book which will deal with emergence and kitsch. For now, his ideas and enthusiasms mark Pearce as decidedly contrarian."
John Seed – Huffington Post