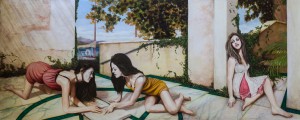 Michael Pearce is an English figurative painter who lives in Ventura County, California.
While on the surface Pearce's paintings are romantic escapes from the hard edges of daily life, celebrating colorful flowers and beautiful people, there's a mythic depth to them that reveals the artist feeling his way out of negative deconstruction by drawing upon archetypes and allegories from the West's deep past, from centuries-old emblem books and alchemical symbolism. Pearce digs for conceptual themes in the paintings that capture his audience by encouraging their individual imaginative interpretation of the events he has painted. There's meaning here – a reconstruction of ideas bigger than ourselves – that makes these paintings feel greater than their already large size.
In addition to his successful career as a painter Pearce has a background in archeology, scenography and installation art. Although he has lived in California since 1990, his love for the ancient landscapes of his previous homes in Wiltshire and Devon has never left him and has powerfully influenced his work, and he regularly visits England. He teaches painting and drawing at California Lutheran University in Thousand Oaks, where he is responsible, with his friend Michael Lynn Adams, for organizing The Representational Art Conferences (TRAC). He is editor of the Proceedings of the conferences. He is author of Art in the Age of Emergence, a remarkable book about the aesthetics of representational art in the emergent age.