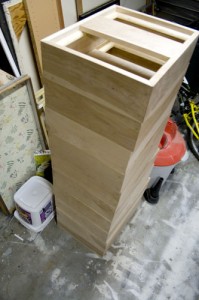 I spent the day in my hot garage shop putting the boxes together using that nice poplar I picked up the other day. I finished this afternoon, so that installation is looking good to go.
Thank God for power tools! Not too long ago I would have had to hand cut and mitre every single piece of wood used in the boxes. All I need to do to these now is paint the interiors black, then mount the gold leafed pieces into them, trapping them inside with the back plate you see resting on top of the quarter round molding set behind the leading edge. Cameron spent a couple of hours touching up gold leaf omissions on the actual pieces, so we're really close to completion. It's satisfying to have finished these, but I need to stay focused on what needs to be done to get everything done. Tonight I'll pick up the circle I need for the cone piece, which I haven't even started making yet! Fortunately it's pretty simple, and I know exactly what I need to do to make it, so it's a simple matter of actually doing the work. I'll be using my drill press a lot this evening making the holes for the string that will connect the edge of the circle, suspended at ceiling height, to the donut near the floor.
I'm missing painting a bit, looking forward to getting back to the peace and solitude of the studio.